Solar Powered Pavilion
1. The solar powered pavilion integrates landscape art, lighting, and rest together. The combination of BIPV and lighting not only ensures the functionality but also reflects culture value and nature ecology.
2. The perfect integration of functionality and artistry highlights the modern value of public sculpture and architectural art.
3. The solar powered pavilion can be used in villas, squares, city green belts, tourist attractions, residential communities, and other places.
Archaic Rhyme Series
1. Xuanniao Pavilion 0030054216

Technical Data
| | |
| --- | --- |
| Height | 3.5 meters |
| Length and width | 6m×6m |
2. Hexagonal Pavilion 0030054214
Landscape Series
1. Blue Pavilion HZJ-D61

Technical Data
| | |
| --- | --- |
| Light source | LED 120W |
| Height | 4.8 meters |
| Length and width | 10m×8m |
| Surface treatment | Fluorocarbon Coating |
| Lamp body material | Q235B steel |
| Solar module | Mono, poly solar modules |
| Solar module power | 370W |
| Battery | 80AH |
| On-off control | Light control + time control |
| Working way | Utility complementary |
2. Rhythm HZJ-D62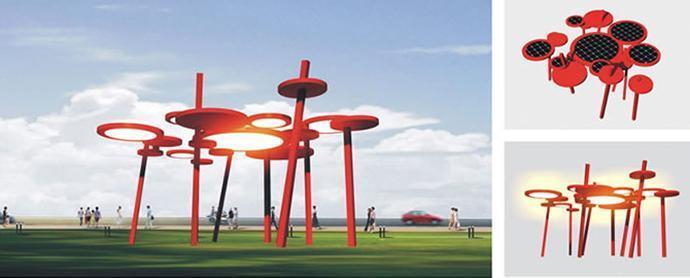 Technical Data
| | |
| --- | --- |
| Light source | LED 202W |
| Height | 5 meters |
| Length and width | 7m×8m |
| Surface treatment | Fluorocarbon Coating |
| Lamp body material | Q235B steel |
| Solar module | Mono, poly solar modules |
| Solar module power | 676W |
| Battery | 80AH |
| On-off control | Light control + time control |
| Working way | Utility complementary |
3. Outside the Pavilion HZJ-D02

Technical Data
| | |
| --- | --- |
| Light source | LED 5W×4 |
| Height | 4.5 meters |
| Length and width | 3m×2.5m |
| Surface treatment | Fluorocarbon coating |
| Lamp body material | Q235B steel |
| Solar module | Mono solar module |
| Solar module power | 7W×10 |
| Battery | 12V50AH |
| On-off control | Light control+ time control |
| Working way | Utility complementary |
Related Names
Solar Powered Statuary | Modern Outdoor Art | Contemporary Sculpture