Sport Solar Oven
You can enjoy the delicious food outdoor now. No need fire, no need carbon, no need LPG or electricity…The food can be cooked totally by sunshine.
Bite sun is so easy now!
Solar Cooking Technology
1. All Seasons
No matter whether it's too cold or windy for the Himin solar oven which is equipped with near perfect vacuum tube. If there's sun, you're in business.

2. Portable
The sport solar oven can be assembled in seconds, and features a slim clamshell package weighing 2.6kg. This sun oven is ideally suitable for RVing, camping or just relaxing in the backyard.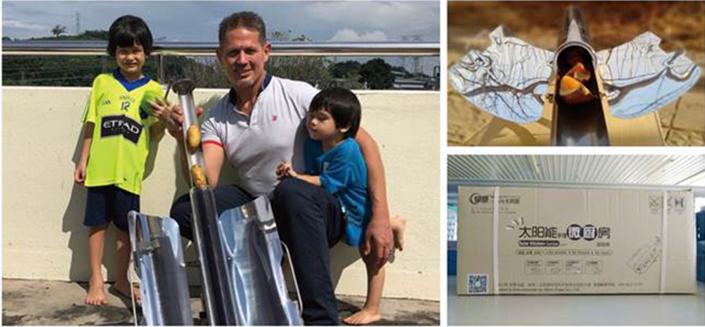 Application

Specification
Cooking time
About 20 minutes in good sunlight, then you can enjoy delicious food
Net Weight
2.6kg
Capacity
Max 1.3L each time
Temperature
The max. temperature in the tube could reach 300℃ in sunny days
Size
Closed: 64cm*14cm*24cm(L*W*H)
Food material
Ham sausage, eggs, frozen tofu, kebabs, fish balls, Steamed bun stuffed with red bean paste, kiwi shrimp, fish, bread, sandwiches….
Packing List
2018 sport type portable solar cooker
1 set
Brush for cleaning
1 unit
Details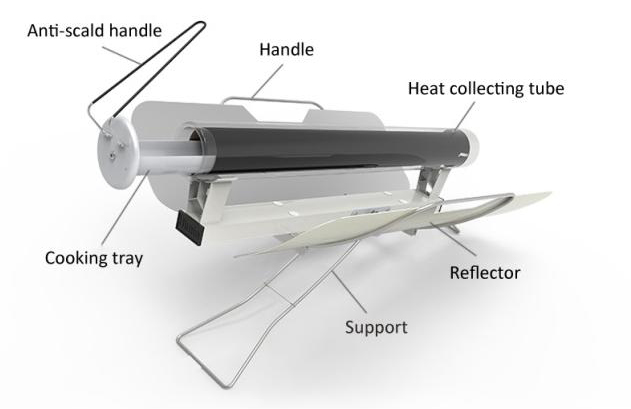 Features:
1. Easy outdoor cooking
2. No fire
3. No carbon emission
4. No LPG
5. Green and safe